Workshops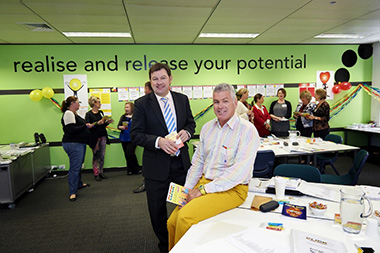 'The Click! Colours were awesome - absolutely the best way to kick off the Saturday morning. It became a theme of the entire weekend.'
Peter Bland - Click! Colours Facilitator -The Leadership Group
Boost results in your workplace by giving your people the knowledge and tools to help them understand and leverage diversity. Experience a Click! Colours Interactive Workshop just like the characters in the Click! book.
Click! Colours workshops are tailored to suit your needs. Here is a sample program:
Why You Click With Some People and Others Drive You Crazy!
Do you find there are some people you get along with straight away?
Are there others you find very annoying?
And have you ever wondered why you CLICK with some people and others drive you CRAZY?
This workshop will give you the tools and knowledge to help you understand why people behave the way they do, and help you build relationships, improve your communication skills, and identify your personal potential. This high-content and interactive learning program will provide powerful insights into human behaviour that will help you boost both individual and team performance.
You will learn...
How and why people build relationships, make decisions and communicate.
How people view the actions of others in a team.
Why some people's behaviour can drive others crazy.
How you are perceived by others.
How to get along with people who are not like you.
How to optimise relationships within a team.
How to motivate team members to achieve peak performance.
How to mould different individual styles into a strong and high performing team.
Enjoy a dynamic learning experience that will give you a greater understanding of people's behaviour and boost success and happiness in your work and in life.
Contact Click! Colours International to organise a workshopfor your workplace, team building program or conference.